Red Bull Bedroom Jam 2012
Red Bull

Date:
January 2012

Type: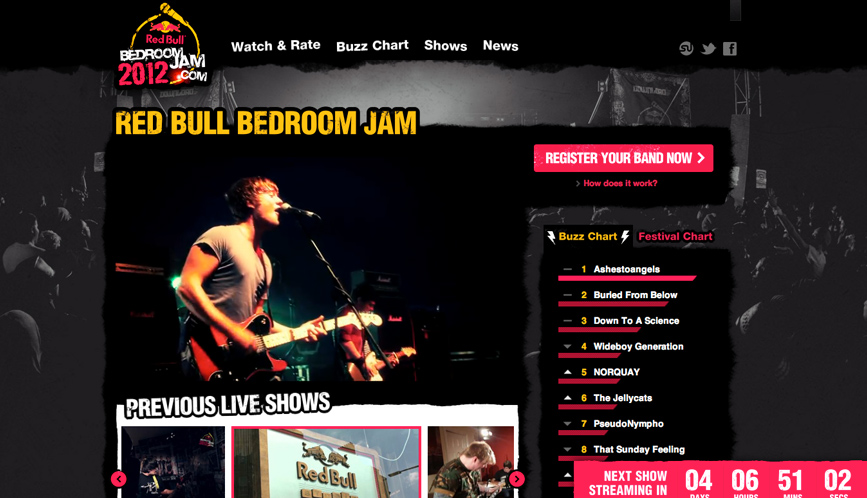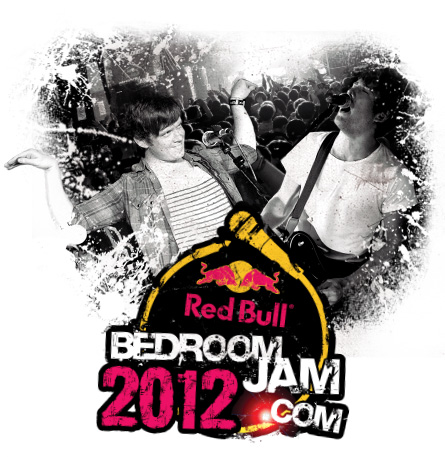 Overview
Challenge
Our key challenges were to increase the number of bands signing up over the campaign, broaden the numbers of fans engaging with Red Bull Bedroom Jam as well as drive up viewership of the live band broadcast every Monday.
To drive exposure, sign-up bands and fans, Red Bull needed a strong and intuitive platform and campaign with social engagement at its heart. A further consideration was that the end product needed to provide Red Bull with a framework that was easy to roll out to multiple territories.
Insight
Wide spread access to modern HD camera technology and easy to use editing software is now allowing easy production of very high quality music videos.
In making it as a band - the musical talent and creative process is the 'easy' part - building exposure and following is the hard part.
Working on this premise, the Red Bull Bedroom Jam platform was created as a socialised popularity content site where each band's content and their fans interaction with it across all channels is measured to create the voting mechanic (The Buzz Chart).
Work
Site: A highly interactive, media rich campaign site with a strong focus on the very best user experience. This included a live broadcast engine, which allowed direct-to-web video broadcasting from the bands homes and integration on the Buzz Chart technology (2 Stroke). We took an open source route for the build which enabled us to provide a robust future proofed platform that is socially enabled, easily scalable and highly transportable to other territories.
Campaign: Using a series of highly targeted Facebook advertising campaigns, we were able to drive both band signups and live broadcast views. To accompany the Facebook activity, we created a number of supporting display assets and a tactical press advertising campaign to support the online coverage. As well as traffic drivers, we also delivered ongoing site maintenance, social content monitoring and entrant communications through multiple channels
Results
The campaign so far has seen 350% uplift in band entries on last year and there has been a huge growth in voting, sharing and overall social engagement on the site from fans. A virtual 'copy and paste' process allowed the site platform to be rolled out into both the Irish and Australian markets easily.