Cadbury's

Date:
May 09

Type: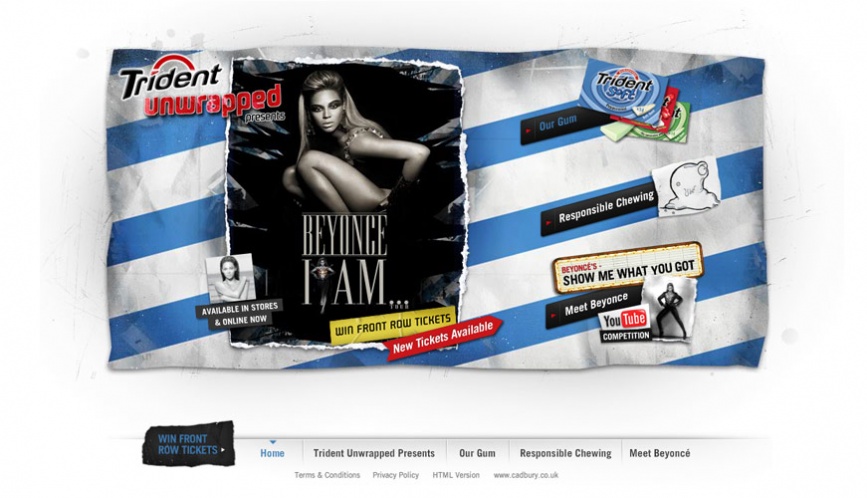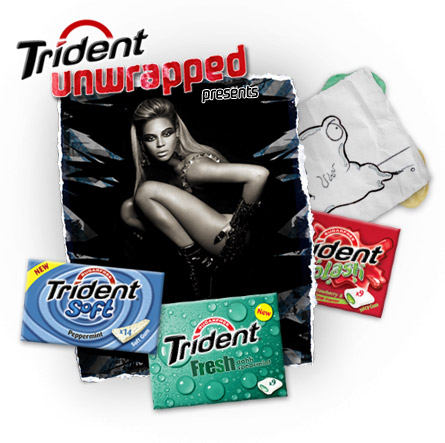 Overview
With a little help from Delete, Trident is unwrapping a major artist.
Working with agency JWT, Delete were briefed to build an exciting new campaign website for Cadbury's Trident Chewing Gum brand.

The campaign focuses on an exclusive Beyoncé Concert at London's O2 and the flash site delivers a rich brand experience for Trident based around a number of competition mechanics to give away over 10,000 free tickets.

Delete initially delivered all key page designs,
3-D transitions between the sections (playing on the theme of the Unwrapped campaign), and the flash build, working with Big Interactive to integrate with Cadbury's backend platform.

Featuring Beyoncé and the information relating to her and the concert, the site also showcases the latest Trident Gum flavours and encourages responsible chewing with a cute hand rendered stop frame animation (old school).

The latest update to the site has seen the addition of a UCG video competition promoted through Kiss FM and YouTube. Visitors enter the competition via YouTube and all video content is pulled via an API feed to the branded site.

There are more exciting updates to the site planned, so stay tuned.
Delete says
"Working with such a great Agency as JWT was a pleasure - they really gave us the freedom to deliver an outstanding end product for Trident Unwrapped. We look forward to all the exciting new activity planned throughout the year!"
Damon Mangos - Creative Director